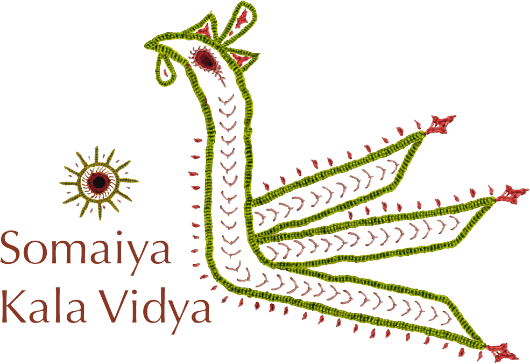 Workshop
Somaiya Kala Vidya, a social enterprise working with textile arts in the desert region of Kutch, India, offers workshops focusing on concept, design and techniques of textile arts of Kutch for design and textile enthusiasts
Objective
Workshops include extra weft weaving on a pit loom, hand block printing, batik block printing, bandhani (shibori), and dyeing with synthetic and natural dyes. Embroidery in Rabari and Suf traditions, patchwork and appliqué can also be taught.
Participants learn age-old traditional techniques, traditional concepts of color, form and patterns, and creative evocation of artisans' experiences through their arts.
Excellent opportunity to experience the vibrant culture of Kutch artisans.
Participants will appreciate concept as well as learn exciting skills, through working with traditional artisans.
By the end of the workshop, participants will have produced a genuine textile in the art form chosen, and have had the enriching experience of working directly with these artisans
Facilities
Somaiya Kala Vidya is situated on an expansive campus outside Adipur, near the commercial center Gandhidham, in Kutch. The workshops are taught by master traditional artisans who have graduated from a design program. Studios for weaving, block printing and dyeing are constructed in traditional style with stone and lime mortar, and antique wood and stone elements. These structures have revived languishing eco-friendly techniques while contributing to the beautiful, inviting atmosphere of the rural campus. Workshops may be conducted in artisans' villages. Simple, healthy Gujarati vegetarian meals are included in the workshops.
Traditions Arts
Weaving
Block Printing
Batik
Bandhani
Natural Dyeing
Embroidery
Patchwork and Applique
Instructors
In all workshops, participants work with traditional artisans who have graduated from a design program-- weavers, printers and dyers, the inimitable nomadic Rabaris and other embroiderers. Profiles of instructors will be available when the dates of the workshops are set.
Duration and Fees
Minimum 3 people required. Fees per person include lunch and tea as well as materials and instruction and pick up-drop off at Bhuj.
| | | |
| --- | --- | --- |
| 1 Day - $ 100 per person | ₹7,500 | 2 Days - $ 190 per person | ₹14,000 | 5 Days - $ 450 per person | ₹33,000 |
Options for workshops with room and board are available on request.Special discounts for group bookings are also available.