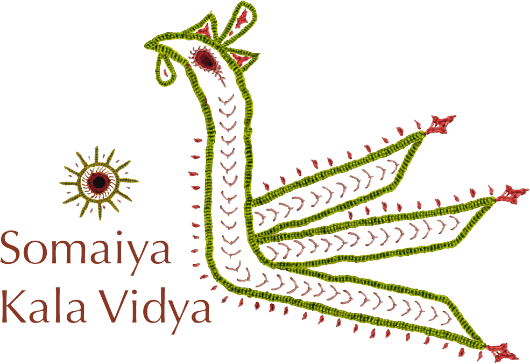 Bhujodi to Bagalkot
The Bhujodi to Bagalkot project introduced the concept of Artisan-to- Artisan Design. In September 2013, SKV Founder Director Judy Frater, was invited to a Catalytic Think Tank on the development of Bagalkot District, Karnataka, much of which will be submerged by a large dam.
Bagalkot is known for hand-woven Ilkal saris, which have a strong and well-loved identity. Today, the hand weavers of Bagalkot are struggling to compete with power loom copies of their work. In order to sustain their livelihoods, they now use cheap synthetic yarn, and even make copies of Varanasi saris on recently introduced jacquard looms.
Somaiya Kala Vidya felt there was a more straight-forward, satisfying and sustainable alternative: empower weavers to design for new markets.
In January 2014, Bhujodi weavers and Program Coordinator Nilanjan Mondal travelled to Bagalkot to secure support of hand weavers and identify participants. In March 2014 five brave Bagalkot weavers and a coordinator visited Bhujodi. For two intensive days they experienced first- hand the impact of design innovation. The weavers formed three teams, and the Bhujodi Artisan Designers began to demonstrate how artisans can tap their traditions to innovate. The project involved many trips and more technical challenges than anticipated. The result was the Bagalkot weavers discovering a love of tradition, and a collaboration of artisans culminating in a robust sale in the prestigious Artisans' gallery, Mumbai.
Within two months, the weavers were ready to learn design. SKV held its first outreach course, on Colour, at the weavers' cooperative society in Bagalkot, and ten artisans attended. Sourcing from nature and directly dyeing yarns in these colours was a highlight. Within two weeks, each artisan created a colour blanket with a new palette, and dreams to create for new markets.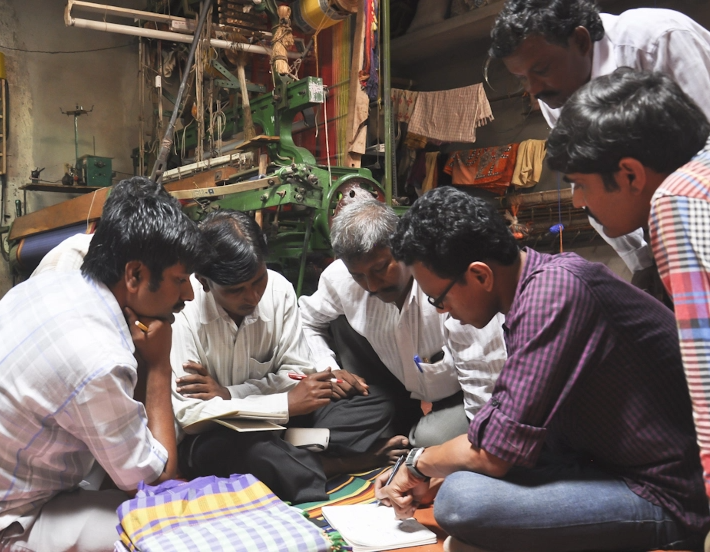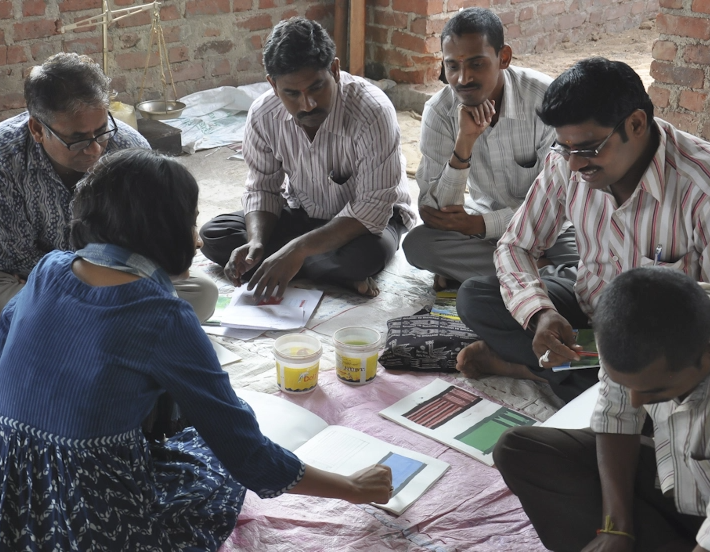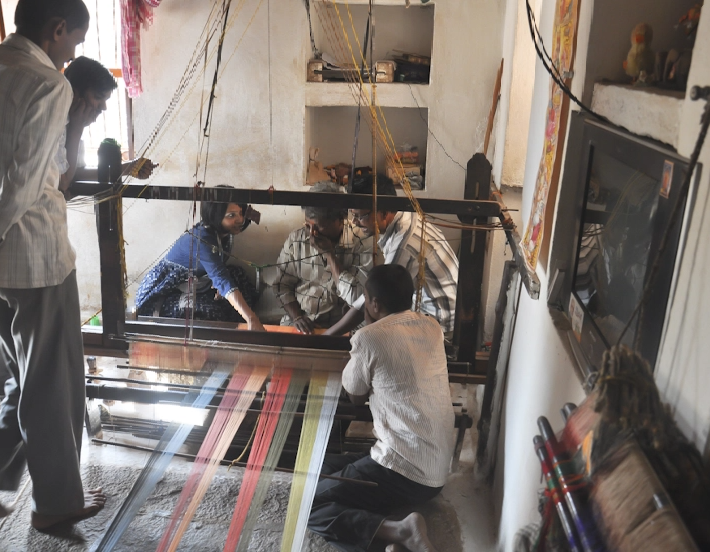 The enthusiasm and success of the artisans involved in this inaugural project amply demonstrate that artisan-to-artisan, traditions will not just survive, but flourish.